Our Club rules on fund raising are as follows: The Club shall support one registered children charity annually. The charity to be proposed by members and carried by majority vote the AGM. Currently we are supporting Kamelia Kids website www.kameliakids.org.uk and charity no; 1154939
KAMELIA KIDS
Kamelia Kids Day Nursery is an Ofsted-registered for children of ALL abilities from 0-8 years. Covering a large area from Shoreham-by-Sea to Arundel it offers 51 weeks full day care with breakfast, lunch and after school clubs. The nursery follows the Early Years Foundation Stage (EYFS) principle of children learning through play.
The Day Nursery supports a number of pre-school children with a wide range of complex needs (long term medical and life limiting conditions) and those with social, educational and additional needs. To cope with the extended services the Nursery has undertaken extensive modifications to the interior of the building to maintain an environment that is safe, stimulating and fit for purpose and has enjoyed the support of local businesses and volunteers in completing these changes.
2021
Mick Gant (Charity Secretary) and Geoff Baker (Vice Chairman) attended Kamelia Kids in Worthing and presented them with a cheque for £1500 representing monies raised over the year by club members. A great effort bearing in mind the continuing lockdowns and uncertainties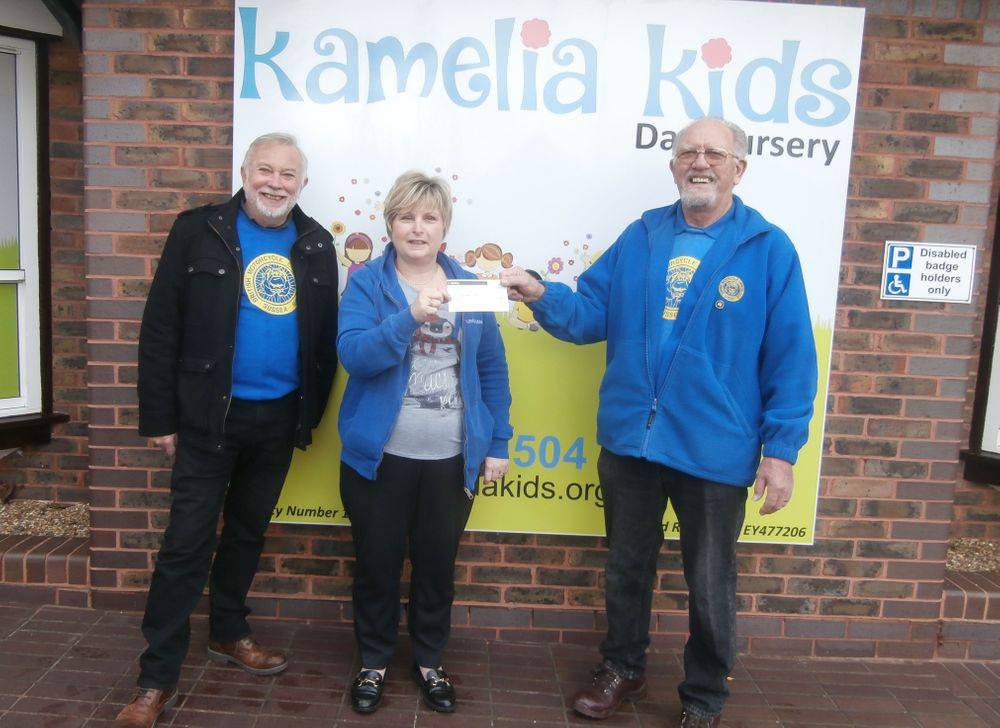 2020
It wasn't really possible to do much to raise charitable funds this year owing to Covid 19 and lock downs
2019
No photo this year unfortunately, but donation as usual presented to Kamelia Kids at our Rock & Roll night.
2018