VISIT TO CULTERSHALL PUMP FRIDAY JULY 28TH 2019
With some 25 out for this trip, it was like `herding cats` and for whatevereason the second man drop off failed and it was just a good job that most of them knew where they were going and Tinker did the sweeping up at the back. Somehow we all arrived. We firstly unloaded our helmets and coats into the `Badgers` pub as arranged with them, and then we walked up through the woods to the pump which took about 5 minutes for some of us and a lot longer for others who just had to.
We were greeted by Chris of the Trust and having had a quick `what it's all about talk`, before we were invited to have a cup of tea in the barn just down the path. This was gratefully accepted and were then given an introduction talk by Chris before we had a look around outside the barn where there was one of the original `wooden pipes` which took the water up the Petworth town, which was the object of the whole exercise . It was to take water from the river Rother and supply Petworth with its first water supply . However raw sewage was then put into the waste water which was then put back into the Rother and as Chris put it, Cholera was rife. We then all went back to where we came in and started the tour of the pump Itself .
I won't go into all the details but the other Chris has his small scale miniature pump there, which he had brought along as this year as it is the 50th anniversary of the first Moon landing which is just 250 years after the pump was built .How technology has progressed . For the better? – you judge.
The pump its self is fully working and was demonstrated for us which caused a lot of interest and questions.They were only charging a measly £3 for admission and I know a number us gave a bit more `because it was worth it` .Where has I heard that before. It was then a somewhat quicker walk back to the Badgers for a very nice pint and a sandwich .
All in all a very enjoyable visit.
FRIDAY MAY 17TH 2019
Keith he of 'hairy' fame asked if some Club members might accompany him to see Michael a colleague of fifty years standing who was currently in a nursing home in Crowborough and in Keith's words "in a bad way'.
A round dozen members rallied to the cause and after a fair trip we approached Crowborough and promptly fell foul of a localised shower with the result that we arrived dripping wet. The nursing home welcomed us in spite of our parlous state as we created the odd puddle or two from our boots and kit. Michael was brought down to reception in his wheelchair accompanied by his good lady wife and was clearly pleased to see Keith and the entourage although some overcome by the occasion. Michael spoke to everyone and in spite of the inclement weather was wheeled outside so he could see the bikes.and talk to their owners. Clearly a motorcyclist at heart in spite of his present condition.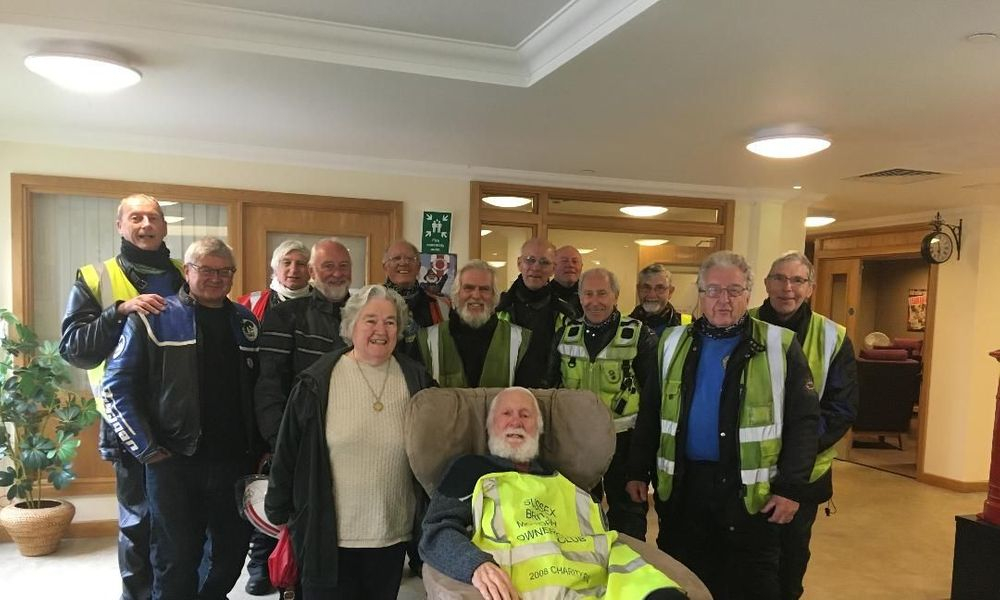 Photos by John Grew